Unearth some Mammoth-Sized Fun | View in Browser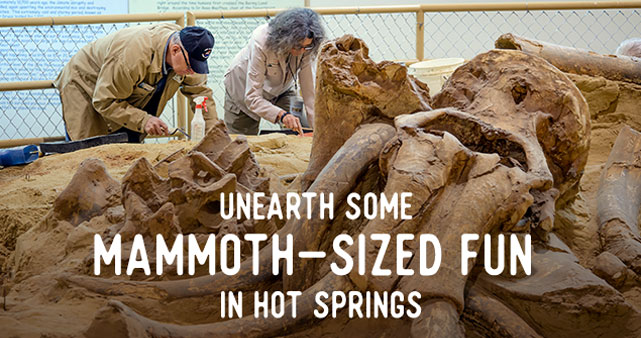 It's home to one of the most valuable fossil treasures known to mankind. It's also fun for all ages! Explore the home of the largest concentration of Columbian mammoth remains in the world. Take a self-guided tour around the working paleontological dig site, stand next to a life-size replica of a massive mammoth, and take in one of the world's finest fossil collections. Come dig big at The Mammoth Site in Hot Springs.
Seeing is Believing
Every visitor to The Mammoth Site can enjoy our self-guided tour that goes around "the sinkhole", where more than 60 mammoths and 87 other species have been discovered. It's a rare chance to see an active dig site all in the comfort of a climate-controlled building.

Let Your Young Ones Explore!
Every summer, The Mammoth Site offers kids ages 4–12 the chance to become "Junior Paleontologists." The program, which runs five times daily through June and July and twice daily from Aug. 1–15, lets kids experience a simulated excavation complete with fossil discovery! Photos and filming are encouraged, and each participant will leave with a fossil identification booklet and a certificate. An advanced program is available for kids 10 and up at 11 a.m. daily from June 1 to Aug. 15. We are currently only accepting online reservations through this website.

Snack and Relax at the Bonebed Bistro
Exploration causes hunger. Keep your energy up at the new Bonebed Bistro! With sandwiches, pizza, hot dogs, cinnamon rolls, coffee, soda and other items, this snack area will keep your energy up and your little ones happy. The new Bonebed Bistro is open from 10:00 a.m. to 5:00 p.m. daily.

Wander. Learn. Enjoy.
Your jaw might drop when you first see the giant mammoth that greets you upon entry. Prepare to "ooh" and "ahh" some more as you explore The Mammoth Site's amazing on-site museum. Rare fossils, full-size animal models and more are just a visit away.